Features of Poseidon network
Scalability :
Provides decentralized bandwidth, storage & computing nodes for users across the world.
Affordability :
Provides enterprise friendly solutions and services at 1/3x cheaper than other cloud providers.
Speed :
Thanks to Fog Computing, Poseidon is 2x faster than other clouds, thus achieving lesser latency.
Bandwidth optimization :
Due to effective use of idle resources and a variety of flexible solutions, bandwidth optimization is at its peak.
Token incentivization :
The network incentivizes systems sharing their idle resources with its functional native QQQ token.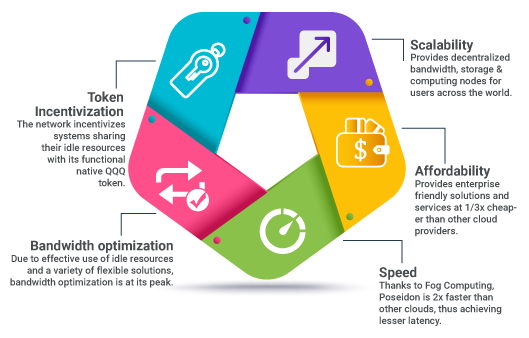 The QQQ token
Poseidon network pays rewards to networks which share their idle resources for others to utilize. Networks earn the QQQ token generated by the Poseidon network as rewards. Reversely, the QQQ token is required to be paid to the network in order to avail their services. The QQQ token can be bought from exchanges like BitForex and HOTBIT using Fiat or Crypto currencies. Miners participating in the network also receive the QQQ token as their reward, that is calculated according to individual node contribution.