Extract-Enrich-Engage-Export
Extract - Sales Jarvis helps automate data extraction processes from 25+ data sources like LinkedIn, Crunchbase, Angel etc. It makes possible the execution of targeted prospecting and targeted lead generation. Sales Jarvis's data extraction tool helps maintain an active prospect database where data is complete, valid, relevant, consistent and updated.
Enrich - Sales Jarvis provides auto enriched details of Company information like HQ, Company Size, Specialities, Founding, Funding details, etc, Person with information like Location, Designation, Experience, Summary, etc, Email addresses and Contact information along with the verification and validation of these contact details. Sales Jarvis has integrated with email data enrichment and contact finder tools like Snov.io, Apollo, Rocket Reach, Drop Contact for the same.
Engage - Sales Jarvis' automated sales automation software carries out timely and scheduled LinkedIn campaigns and Email Marketing campaigns to personally reach out to prospective customers and highly qualified leads.
Export - Sales Jarvis has integrated with top CRMs like SalesForce, Microsoft Dynamics, HubSpot etc to enable exporting of data in a seamless manner.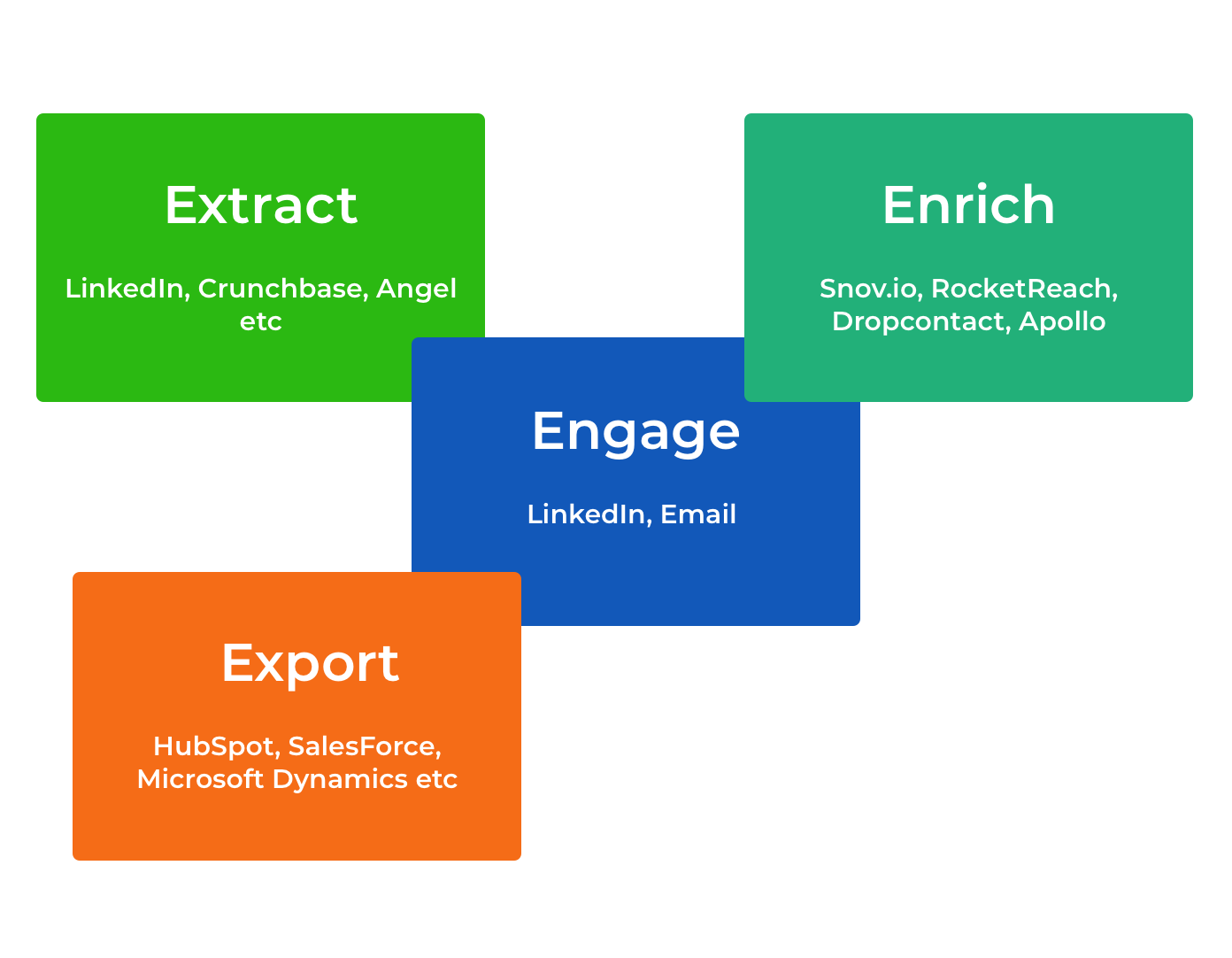 Unique Features of Sales Jarvis
Auto Prospecting - The auto-prospecting feature helps businesses search target audiences from 25+ data sources using any lead criteria; and within a few steps, can provide a list of prospects matching the certain criteria.
Auto-Segmentation - Businesses can have the deepest level lead segregation with maximum possible combination of searches using their filters.
Trackable URL & Attachments - Sales Jarvis enables businesses to track their URL & Attachments in emails and LinkedIn by notifying whenever any lead opens the URL & Attachments in real time.
Automated Lead Generation - Sales Jarvis automates the lead generation process and guarantees highly qualified leads which are most likely to convert into potential customers.
Ready to use Templates - Businesses can use Sales Jarvis' ready to use templates of automation workflows like targeting recently funded startups, targeting actively hiring companies etc to kickstart their sales cycle.
Easy to set-up - Setting up Sales Jarvis sales automation software is extremely easy and straightforward; the drag-and-drop workflow feature of the tool can be used easily even by a non-technical person to set up the process.